Young Kolkata hugs it out: Moral policing does not define my city, say the protestors
Many protesters felt the incident brought a bad name to the city, which otherwise has welcomed people from across the world with an ounce of moral policing
Protesting against thrashing of a couple by middle-aged men at Dum Dum Metro Station in Kolkata
for hugging inside a metro coach on Monday night, youths from across the city hugged each other in protest against moral policing at Tollygunge metro station here on Wednesday.
Displaying placards with #HokAlingon or 'Let's embrace' slogan – the name has connotations to the 2014 Jadavpur University #HokKolorob (Let there be polyphony) protests that resonated across the
country – strangers including men and women from various backgrounds hugged each other in solidarity with the couple who were victims of moral policing.
The protest organiser Rahul Chakraborty, whose Facebook post calling for the protest at Tollygunge connected the strangers, said: "We tried to spread a message of love against the act of hatred committed by a few people. We do not belong to any association or party or union. We are common Kolkatans who were shocked by the incident."
Other protesters also echoed Chakraborty's concerns. "This is my city where I was born and raised. But suddenly, I am feeling scared to hug my woman friend in public or even hold my sister's hand. I
don't want my children to live in such intolerant space. That's why I am protesting," said Behala resident Anurup Ganguly.
More than 1,000 people present in the protest sang songs and played various musical instruments. "If I am hugging someone, I am doing that out of my consent and nobody has right to question that as
it is none of their business," Naktala resident Sagarika Roy said.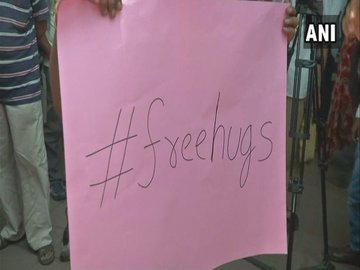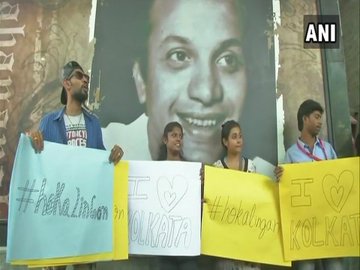 Youth speak:

Youngsters offer 'free hugs' to people outside Dum Dum metro station in kolkata', as a mark of protest against people who had reportedly beaten up a couple for hugging in the metro

 
Many of the protesters felt the incident brought a bad name to the city. "Kolkata has always welcomed people from across the world with a big tight hug. This moral policing act does not define my city," Jadavpur resident Soumyajit Sarkar said.
Around 200 people had also staged a protest and submitted a memorandum to Kolkata Metro authorities in Dum Dum on Tuesday demanding arrests of the accused. "Some photographs of people being
identified as the main culprits of the moral policing are being circulated throughout the social media. I urge people not to do that until the real culprits are traced or else innocent lookalikes may get hounded," protest organiser Abhishek Kar said.
However, Kolkata Metro, in a statement, that an inquiry has been launched. "Dear commuters, we are trying to enquire into an incident which has allegedly taken place at Dumdum Metro station. No complaint has been lodged by anyone as yet. However, we are trying to get to the bottom of it. But we would like to make one thing very clear that Metro Railway is against moral policing," Kolkata Metro's official handle tweeted.